Part 1 Background of the establishment of the Haiqiangsheng Mode
A. Industry status and trends
1.Quick Norms
In recent years, the Rural Affairs of the Ministry of Agriculture has closely promulgated a number of policies and regulations closely related to the animal health industry, and has strengthened the control of veterinary drugs.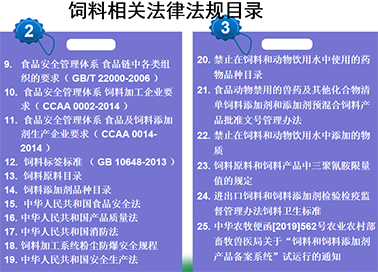 1.1 Implement the new version of "GMP for Veterinary Drugs"
The new version of "GMP for Veterinary Drugs" will be implemented on January 1, 2020, and the "Good Manufacturing Practice for Veterinary Drugs" (Order No. 11 of the Ministry of Agriculture) issued by the former Ministry of Agriculture on March 19, 2002 shall be abolished at the same time.
Raise the barriers to entry for veterinary drug production.
The production process requires automated control to avoid personnel contact and prevent cross-contamination.
Improve the cleanliness monitoring standards of veterinary drug production plants, implement dynamic monitoring of the production environment, and improve product quality assurance levels.
Strengthen the prevention and control of biological safety to prevent hidden dangers of biological safety in the production process.
Carry out risk management and control to stabilize product quality.
1.2 Strictly supervise and enforce the law
Promote the connection between administrative law enforcement and criminal law enforcement, promote unannounced inspections of veterinary drug manufacturers, and establish a system for reporting inspection results;
Veterinary drug supervision and law enforcement is incorporated into the prevention and control of major animal diseases in various provinces, and the performance management index system is extended.
1.3 Comprehensively build a veterinary drug "QR code" traceability system
Listed with code, veterinary drug product warehousing information must be uploaded to the central database. As of January 2019, production companies and veterinary drug products have achieved full coverage, and targeted violations of laws and regulations have been implemented.
1.4 "Feed and feed additive product filing system" is online
Cancel the product approval number.
When making the filing record online, the production enterprise shall submit the product formula, product quality standard, product label style and instructions.
2. Industry changes intensified
2.1 The traditional single marketing model is no longer suitable for the existing market. It is necessary to seek a diversified marketing model, make the most timely response to market changes, and directly serve the terminal farms and farmers.
2.2 The husbandry industry is developing towards intensive and large-scale development. In the future, large-scale enterprises + moderate-scale family farms will become the main force in the supply of the husbandry industry, and they must have the ability to serve moderate-scale and large-scale farms.
2.3 Husbandry groups are more willing to cooperate directly with animal health production companies, while production companies need service enterprise who can directly serve local large-scale husbandry groups, and need to find a new cooperation model to combine the two, give full play to their respective advantages, and serve large-scale husbandry groups .
3. Changes in husbandry concepts and user needs
A few years ago, therapeutic drugs became popular. In recent years, as the scale of individual farms has grown and standardized farms have increased, many farms have begun to pay attention to nutrition and health care, the healthy aquaculture concept of "cultivation is more important than prevention, prevention is more important than cure" is valued by people.
Users' demand for high-quality, brand-name products has increased, paying more attention to product quality, product technology and use effects, rather than just paying attention to price.
4. The state encourages entrepreneurship
In 2018, the "Notice on Vigorously Implementing Rural Employment and Entrepreneurship Promotion Actions" (Nongjiafa (2018) No. 4) and the "Notice on Implementing the Integrated Development of Rural Primary, Secondary and Tertiary Industries" (Nongjiafa (2018) 5 No.) No) Support and encourage the employment and entrepreneurship of returnees, rural residents and local residents.
The husbandry industry is a pillar industry in many townships. More and more people with professional background and industry experience return to their hometowns to start businesses and join the animal health industry.
B. Diversified services and in-depth cooperation trends
1. Regional husbandry models are diversified, and a variety of husbandry service models are the future trend. Just like a supermarket, it has a variety of products and a complete range of products to meet different needs.
2. The traditional service is an addition to the product, and the demand is relatively simple. With the industrial chain of husbandry enterprises, it is necessary to provide products and supporting solutions more conveniently and quickly.
3. Traditional distributors are just product sellers and do not participate in product development, but distributors are the sensors of market changes. They know the market and the needs of users best, and need to seek a model of in-depth cooperation, from a distributor to a service provider. Participate in product development and timely feed back market information to animal health manufacturers to make products closer to the needs of the husbandry site.
Part 2 Haiqiangsheng Health Husbandry Service Alliance Business Plan
(一)Haiqiangsheng Model
At the end of 2014, Huiying Animal Health, based on the existing business model, proposed a plan to jointly establish Haiqiangsheng's healthy husbandry service department with local competent and high-quality distributors or people who are interested in starting a business throughout the country. Today, Haiqiangsheng Health Husbandry Service Department has successively opened in towns and villages in Fujian, Jiangxi, Zhejiang, Anhui, Shanghai, Jiangsu, Shandong, Guangdong, Guangxi, Hainan, Henan, Hunan, Hubei, Hebei, Liaoning, Sichuan, Chongqing, Heilongjiang and other provinces. And smooth operation, the Haiqiangsheng model is gradually mature in the exploration, there are more than 60 chain stores now.
(二)Cooperation Requirements
A Deep cooperation
Main or franchise business in Huiying animal health products
B Mutual ideal
Agree with strategic plan for the development of Huiying Animal Health, and cooperate with the company to grow together.
C Service capabilities
A team with certain service capabilities, regional operation experience and the ability to sell and service animal products, can increase product sales as soon as possible and Huiying's brand influence.
D Marketing ability
According to the regional husbandry structure and market conditions, alliances can organize product sales, brand promotion, and formulate market development plans in a timely and effective manner.
(三)Inspection And Evaluation Process
(四)Cooperative Partner
(五)Cooperation Mode
(六)Advantages of Haiqiangsheng Mode
(七)Policy Support
(八)Development Goals
There are more than 200 Haiqiangsheng Aquatic, Livestock and Poultry Health Husbandry Service Departments across the country, which specialize in or focus on Huiying Animal Health products, directly serving end users (husbandry farms, farmers) of livestock, poultry and aquatic products, and responding to market changes in a timely manner to serve the farms more professionally. While doing a good job in the production industry, we can also consider entering the capital market in the future!
Part 3 Haiqiangsheng's Operations and Local Haiqiangsheng Service Departments
(一)Haiqiangsheng's Operations
海强生畜禽水产健康养殖服务联盟
海强生水产健康养殖服务联盟
海强生畜禽健康养殖服务联盟
(二)Haiqiangsheng's Branches
Aquatic Health Farming Service Alliance
Haiqiangsheng Livestock and Poultry Healthy Husbandry Service Alliance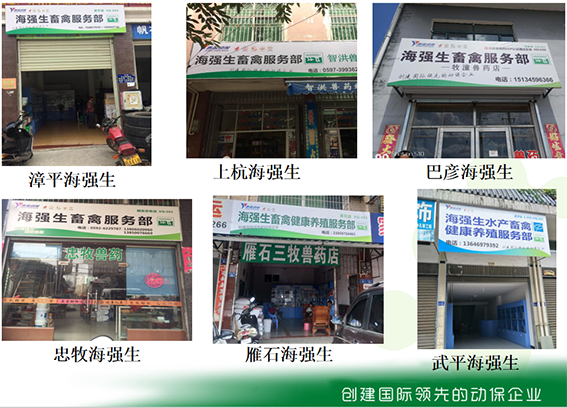 Haiqiangsheng Livestock and Poultry Healthy Husbandry Service Alliance
Since its establishment 20 years, Huiying Animal Health has always adhered to the product development principles of safety, standard, efficiency, and value in product research and development. The high-quality and stable product quality has been fully recognized by the majority of customers and has a certain number of loyal customer groups; In the construction of the distribution system, we adhere to the principles of manufacturer integration and division of labor, develop together with distributors, give distributors sufficient market and price protection, and support a certain number of distributor groups. They are growing and becoming the long-term development of Huiying Animal Health strategic partners.
Under the background of gradually standardizing the operation of the industry and the country encouraging entrepreneurship, Huiying Animal Health is looking forward to building a platform for manufacturer integration and division of labor with more like-minded partners to achieve a win-win for both.